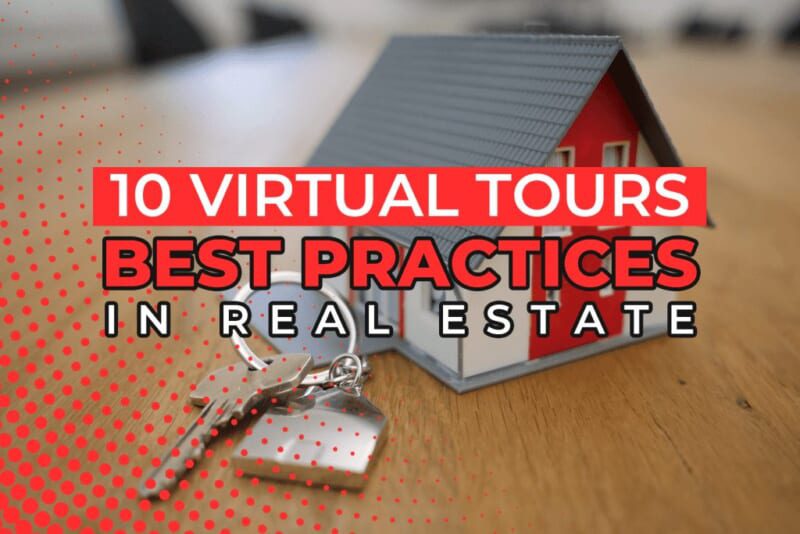 The advent of the internet led people to rely more on what's available online. Even people who are looking for a perfect home opt to use the internet to search for available options. With the most current technology, any real estate listing that doesn't have a 3D virtual house tour will definitely be left behind in the competitive market of real estate. The National Association of Realtors even says that 54% of home buyers won't be bothered to check on a property listing unless it has a virtual tour. However, virtual tours don't always guarantee sales. Some home buyers are even left disgruntled after checking a virtual tour. While some have specialized in creating real estate virtual tours, some are still new and do not know any better. So, how do you make sure that your virtual tour will not suck and will leave you in vain?
What Makes A Great 3D Virtual House Tour
3D virtual tours allow viewers to "walk through" around the property like they are there in person at their own comfort. It is the perfect marketing tool to showcase multiple properties without the hassle and cost of in-person meetings. To make the virtual house tour an experience your potential customer would appreciate and guide them positively with their buying decision, a 3D tour must:
Resonate the feeling of an in-person open house.
Accessible through web browsers and mobile devices.
High-resolution images.
Fast loading speed.
Viewer has full control of the 3D virtual tour.
Easy and intuitive control that allows the viewer to explore any space.
With all that in mind, here are the 10 best practices in 3D virtual tours to make your real estate listing stand out and get the maximum results.
Page Speed and Device optimization
As mentioned above, one of the advantages of having 3D virtual tours in real estate is its convenience for both realtors and potential buyers. To prove its convenience, the viewer should wait no longer than 2 seconds. In short, the website and the virtual tour should load as fast as possible. Make your viewer wait longer than 3 seconds will result in a 53% loss in page views. Make sure that the site is well optimized to decrease loading time and work with your web hosting to ensure that there are no glitches.
Aside from loading quickly, it should also be optimized for different devices whether mobile phones, tablets, or laptops. Test it yourself and view how your virtual tour performs on different devices.
Seamless Navigation
The point of having 3D virtual tours is to allow your potential customers to inspect the property remotely with the same experience of a house tour in real life. Hence, they should have full control of the virtual tour. Make sure to provide efficient navigation in the tour to allow them to move around, check each room, jump from one room to another space in the house, and look from their desired viewing angle. Allowing them to have full control improves the overall experience, increases engagement on your site, escalate their interest in the property, and makes your real estate listing more memorable than other listings.
Home Staging
What you need to remember is virtual tours shouldn't only allow your potential customers to view the property but it should provide them a sense of what it feels like to actually live in it. The goal is to give them that comfortable and cozy feeling while viewing the property. So, don't just put up a virtual tour of an empty house and in the same sense, don't overly accessorize it making it look cramped and cluttered. You could ask a home staging expert how to effectively present each room as a livable space.
Set-Up
If you are to use a 360 camera and plan to scan the place, it is pertinent to check the whole set up and minimize any movement near the camera. Movement doesn't render nicely in panoramic shots. Remove anything that may be in a way or things that could potentially move while shooting. This also prevents unnecessary reshooting.
Lighting
Lighting can make or break your virtual house tour. It can alter our perception of an object's size, shape, and texture. It also has a dramatic effect and sets the mood for the 3D virtual tour. Using dim lighting can make the space look gloomy, less inviting, and can make a room look smaller. Make sure to also use consistent lighting for all rooms and spaces to make everything congruous.
Viewpoints
Consider the actual behaviour of a potential customer during an in-person house viewing—where they tend to stop, stand, and scan the place. With this insight, you can further improve the virtual house tour and duplicate the experience of an actual open house by keeping in mind where to position your 360 camera or scanner.
Highlight Unique Features
Don't just show the unique features of the home. Make sure you use the opportunity to highlight special and unique features of the home, whether it's a hidden cabinet, amazing pantry, built-in shelves, or a beautiful patio that leads to a scenic view of the outside. These are your selling points and adds personality to the property.
Capture the Outdoors
This is often overlooked since most focus on showing the inside of the property when, in fact, the space and view of the outside are just as important to determine if the property is actually livable and homey. Don't leave any details out and provide your potential customers with everything they need to know about the property from inside and out–like how the yard looks, how wide the driveway is, and the beautiful view from the patio.
Floor Plan
While virtual tours can provide you with a 360° view of the house, remember to still include 3D floor plans. A floor plan shows the actual size of space relative to another and the view from above giving a clear perspective of how large or small a room or space is relative to another. The measurement feature, on the other hand, provides the actual size of the room, or any physical feature. Floor plans also guide your customer on the size of the furniture they should purchase.
Invest In Equipment and Software
Not all cameras are created equal. When choosing the device you will use for scanning, you have to take into consideration the size, scale, and complexity of the property. Matterport is the leading 3D reality technology provider. They have different devices for your needs and software that is compatible with most devices.