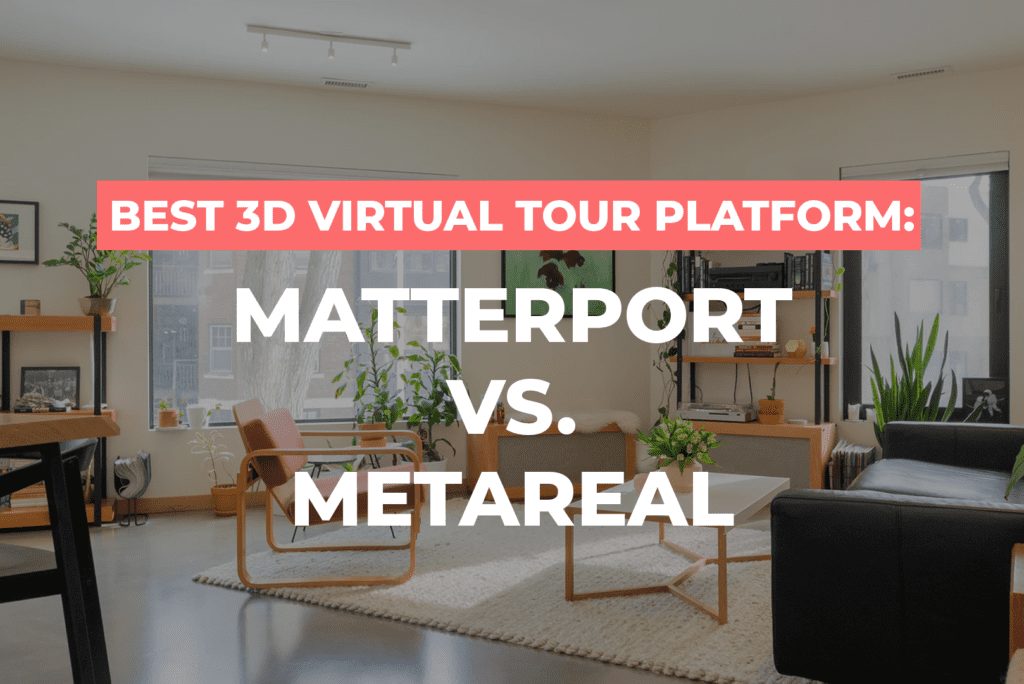 The production of 3D virtual tours currently is at its all-time high. Since foregoing physical contact, the main challenge for a lot of industries is how to proceed with their businesses and how to make sure that their audiences and/or customers are in the loop of their new developments. To counter that dilemma, more and more industries opted to do their operations with the help of 3D technology. Business owners are now realizing and appreciating the benefits of virtual tours for their customer and their business. 
With this demand, you might be thinking about which is the best platform to capture and produce quality virtual tours that would meet your standard and would satisfy your customers. The current frontrunners of 3D virtual tours are Matterport and Metareal–is one better than the other? The answer is it depends. 
As an established leader of virtual reality, Matterport is probably the most known platform and its popularity can be attributed to the fact that back then it was the only platform that has what they call 'Dollhouse' view that allows you to really explore every angle of the model. Then comes Metareal who challenged Matterport also offered the dollhouse 3D effect at a cheaper price point. There are more similarities and differences between platforms and this article outlines the information you need to help you deduce which platform is more suitable for your needs. 
Similarities between Matterport and Metareal 
Everything that you need to create 3D virtual tours is offered in both Matterport and Metareal. As 3D virtual tour platforms, it allows you to design and build your 3D models crucial to create 3D virtual tours, host the virtual tours, and enable you to share the tour on your website, Google maps, and social media that can be accessed and viewed using laptop, tablet, mobile and other devices. 
As per quality, both platforms produce excellent, interactive, and immersive 3D virtual tours that would surely impress your customers. The tour has 3D navigation that makes it possible for the viewers to walk through the building or location with a simple click. The viewers will be further guided in the tour with the help of annotations and additional images–Matterport calls this feature as Mattertags, whereas, Labels for Metareal. Both platforms also include a gallery of 360 panoramic images of the tour and floorplan of the structure. Besides all that, both platforms generate 3D models and the 3D virtual tours are actually VR ready. 
How does Matterport differ from Metareal?
Matterport: Knowing that a location or structure differs from one another, Matterport is compatible with a range of devices aiming to cater specifically to address the size, scale, and complexity of the subject. To illustrate which devices you should be using for your specific needs, below are the devices that are compatible with Matterport:
Metareal: On the other hand, the device requirement to run Metareal is that the camera must be able to create 360 panoramic photos–so, smartphones, DSLR, and 360 cameras work perfectly with Metareal. As for what is the most optimum device for Metereal, DSLR produces the best quality panoramas, both in terms of image quality and measurement accuracy in Metareal tours. As for speed and convenience, 360 cameras are the best choice, however, you can expect some glitch with the 3D tour like objects not properly aligned, distortion, etc. For a budget-friendly option, smartphones can be as useful but the quality may not be as high as compared to the output of a DSLR camera. 
In essence, the quality of virtual tours produced by Matterport and Metareal are at par with one another and both platforms' virtual tours are VR ready. Both platforms have their boasted Dollhouse view that is not available to other 3D virtual tour platforms, floorplans, and measurement features. 
Matterport: With Matterport virtual tour, the user can move seamlessly throughout the whole space rather than seemingly jumping from one image to another–though, it does allow users to do that with the highlight reel navigation that offers easy access to the different areas of the property. It is found at the bottom of the tour and is labelled to guide the user to each section. Matterport has further improved its user experience with Mattertags which is extremely insightful and can be used to annotate, add more information, showcase photos, and videos, and add links within the tour. However, all these features do come at a price and the reason why some are looking for Matterport alternatives is that it could get quite pricey as there is a need for a 3D scanner to achieve optimum results. 
Metareal: Just like Matterport, the results with Metareal are also high of quality that is immersive and easy to navigate. It has smooth transitions to give that realistic 3D effect. To learn how to create 3D with Metareal though requires a lot of manual work and the learning curve is a bit steeper. However, there are few options for dynamic interactions. Only simple text boxes and titles can be added which are called Labels, unlike what Mattertags can provide. But once you get your way around the platform, it could just be as good as Matterport virtual tours at a more affordable price. 
Branding and customization
This will be a win for Metareal as it allows you to remove the Metareal logo and add your business' logo to completely white-label your tour. Matterport only allows you to add your logo but doesn't give the option to remove theirs. 
Both 3D virtual tour platforms offer Free Plan as an introductory use but of course with limited features. Matterport has 3 other paid plans that range from $9 to $309 monthly. See below for their current pricing: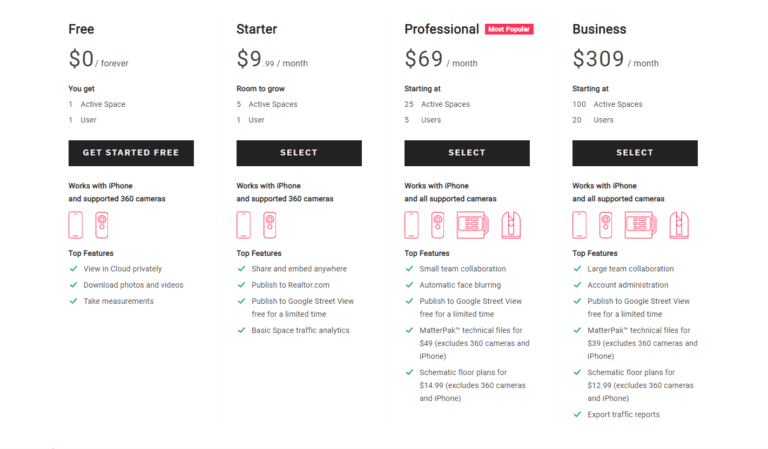 Metareal has its Professional plan at $9.95 monthly and Premium at $39. If you have a larger team and requires more features, you may opt to contact them for their Enterprise plan. Below is their current pricing and what you will get with each plans: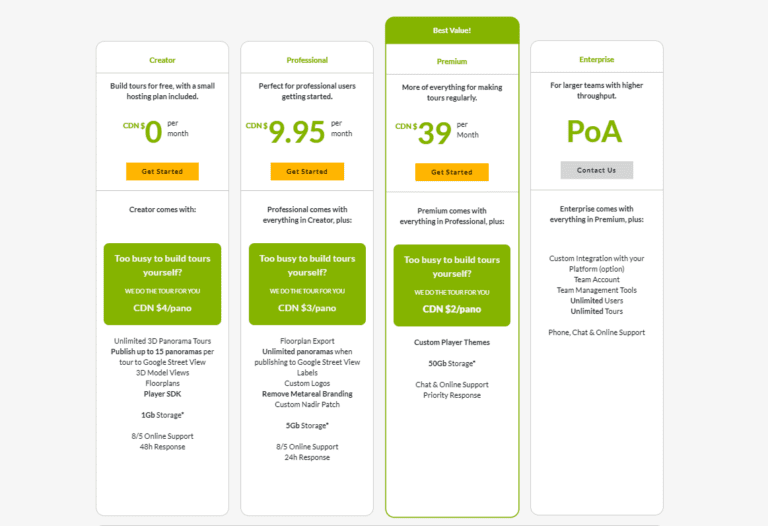 As outlined in this article, both Matterport and Metareal are really good options in creating 3D virtual tours–the decision on picking which is best for your needs would largely depend on your budget and customization requirement. If you are still undecided, you can opt to hire a 3D virtual tour professional to save you a lot of time and guarantee better results.