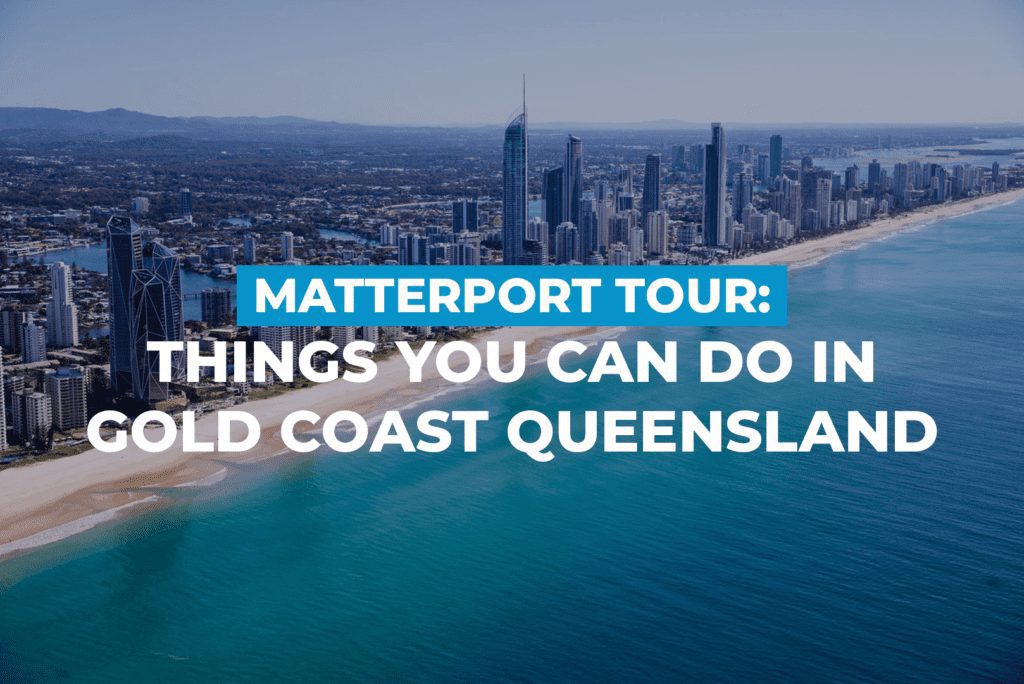 You can find Gold Coast in South East Queensland, on the border with New South Wales and an hour south of Brisbane city. If you're a huge beach lover this region will be a paradise for you given its long sandy beaches, waves that are great for surfing, and weather that's perfect for swimming and sunbaking almost all year round. Queensland is the sunshine state after all! But even if you're not much of a beachgoer, Gold Coast still has a lot to offer that you can easily fill a 2-week vacation! This is exactly why it is one of Australia's favourite holiday region. There are no dull moments because there's a lot to do for people of all ages especially if you enjoy outdoorsy activities.
If you're still not convinced enough, here are reasons why you should definitely visit the "Goldy"– when everything settles down of course. In the meantime, there are 3D virtual tours you can take that will allow you to experience a bit of Gold Coast Queensland without the risks and hassle that comes with travelling nowadays. You would appreciate how far technology has come because of how Matterport tour providers can actually give the experience of immersive, interactive, and in-depth virtual tours to save time and efforts as well as keep people safe during these times.
Beach! Beach! Beach!
When you go to Gold Coast, you'd be stumped by the beach choices available given that the coastline stretches from Coolangatta to South Stradbroke island. It's no wonder most tourists head to the beaches right away knowing that they have a lot to cover. The Surfers Paradise is where most of the Gold Coast large hotels are at which is why it's also the most popular one. Flanked on either side by Main Beach and Broadbeach this is the busiest stretch of sand for swimmers and sunbakers.
If you're trying to avoid the crowd though, and want to get more sun, Burleigh Heads would be more suitable for you. It's only a fifteen-minute drive south and doesn't have a lot of shade over the sand in the afternoon like the Surfers Paradise due to the high-rise hotels. You'd find more locals than tourists here and has that Sunshine Coast relaxed beach vibe.
See The Entire Gold Coast From Skypoint Observation Deck
The Skypoint Observation Deck is the tallest building on the entire Gold Coast with up to 77 stories which is also in the Q1 building. If you're lucky to be there on a non-cloudy day, you'd get a clear 360-degree view of the coast and of the hinterland. For daredevils out there, you can also try their Skypoint Climb which is not only a thrilling experience but is also informative as the climb leader guides you for regular stops to admire the views and learn about the Gold Coast.
Go For A Hike At The Lamington National Park
Experienced hikers will have a satisfying 160-kilometre trail walking here at Lamington National Park which is a subtropical rainforest and part of the Australian National Heritage area. But you don't have to do the entire trail if you don't have the energy for that. Short strolls and the sight of its famed waterfalls is enough to appreciate the beauty of this National Park.
If you have more time, other Gold Coast National Parks worth visiting include:
After a tiring but satisfying hike, the best way to treat yourself is to visit O'reilly's Canungra Valley Vineyards for lunch, a snack, or a glass of wine! It is located adjacent to Lamington National Park road so makes a perfect spot to rest your feet and grab a bite or drink at the same time.
Check Out Three Of Australia's Best Themed Parks
You can visit Movie World, or Wet'n'Wild, or Dreamworld if you're an adrenaline junkie, a film buff, a nature-lover or a water baby. Gold Coasts famous theme parks have something for anyone looking for a mix of heart-thumping thrills and family-friendly attractions. Pack some food and head to any of these parks and you have yourself a relaxing experience or exciting experience depending on your preference.  Doing this is especially great after going around to different places here. Because you still get to enjoy Gold Coast Queensland while taking a bit of a break.
If you're planning to visit more than one park, it could be worth researching a multi-park pass. And if you have your heart set on a particular ride, always check the maintenance schedule to avoid disappointment.
Get Your Stomachs Fill In Variety Of Restaurants
What's a vacation without trying out local foods you know you'd have difficulty finding in your home country or local town, right? Go to Burleigh Heads for cafe culture, health food and classic fish'n'chips eateries. On the other hand, the Surfers Paradise stretch has a smattering of upscale culinary options for those looking for a more elegant dining experience. But if you're going on a Friday and Saturday night, know that it can become crowded with revellers heading to the area's many clubs. If you're looking for a more relaxed atmosphere, try areas like Coolangatta, Burleigh and Currumbin.
Try Jet Boating
Want to do some sightseeing while feeding your adrenaline fix? Jet boating here in the Gold Coast is for you! No trip here is actually complete without a jet boat tour which is a 1-hour experience. You can even do a helicopter tour after that to really pump up the thrill!  Cruise along the water before launching into exciting 360-degree spins. This will be something you will want to do every time you visit the Gold Coast.
Learn To Surf
Surfing is everywhere on the Gold Coast. You can see it in surf-themed cafe menus, surfboard-shaped park benches and surf reports on the nightly news. Ask any surfer around the world why, and they'll tell you it's because of the waves. Want to test your skills? For beginners, the best spots would be Rainbow Bay, Currumbin Alley, and Palm Beach. If you're more advanced, Snapper Rocks, Kirra, and Burleigh Heads are great.
But either way, it would be good to brush up on the basics of surf etiquette or even take surf lessons. Also, the waves in Gold Coast can sometimes turn into mechanical, challenging, and unbelievably crowded spectacles. Unless you're a highly experienced surfer who doesn't mind battling the professionals for a wave, it's best to enjoy the show from the shore.
From this list alone, it's obvious why this region is such a popular destination for tourists and even locals from other cities. Gold Coast is packed with different and interesting things to do. Even if you have been before, it is always worth another visit that you'd find yourself adding new activities and tours on your things to do here.  The further you move out from the city lights of Surfers Paradise the fewer tourists you get, offering a different experience. But for now, if you can find a 3D tour provider that showcases the beauty and fun of Gold Coasts Queensland as realistic as possible, sit back and enjoy that first. Better stay safe now and enjoy your Goldy trip later to the fullest and without worries!