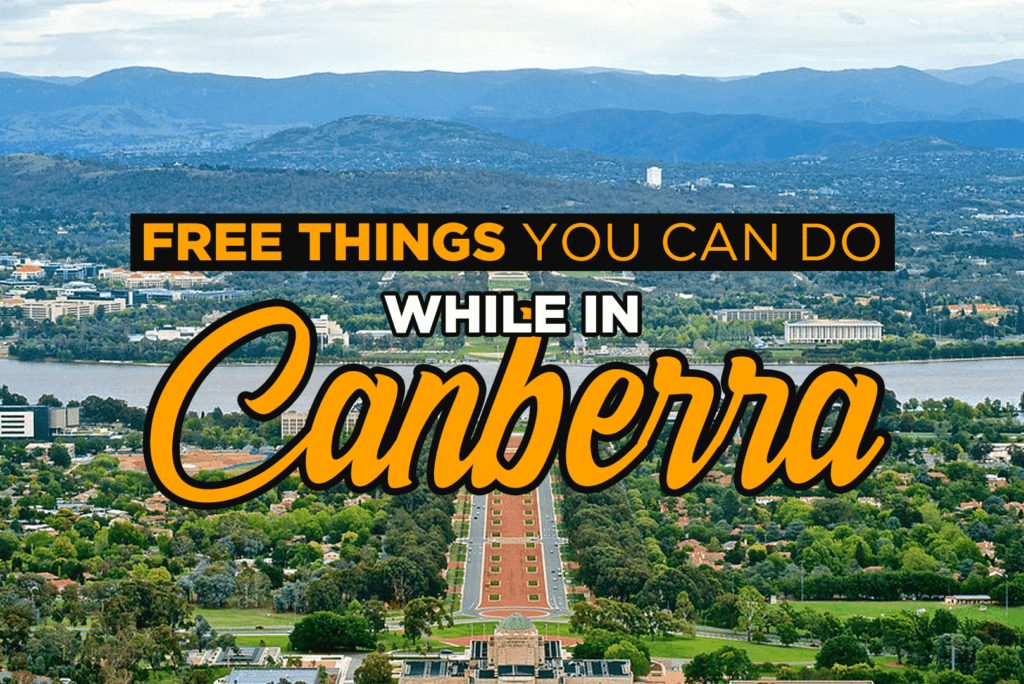 When you think about visiting Australia, most people go to Sydney or Melbourne which is understandable as they are the popular tourist destinations here. However, while not known for having the best nightlife, Canberra will intrigue and impress you with its proliferation of museums, galleries, and natural beauty. If you're into those kinds of things, you shouldn't miss Canberra. Aside from that, there are places and things you can do around here that won't even require you to spend much or any at all! Include all these in your itinerary and you won't be disappointed.
Parliament House Tour
Whether you're an international tourist or an Australian visiting Canberra for the first time, the Parliament House is a good place to start your visit. You don't have to be into politics to appreciate this place. But if like brushing up with the history of the places you visit, all the Australian art on display within the building will give you a sneak peek of the country's art and political history. Plus, it doesn't hurt to have a souvenir photo using this iconic and breathtaking building as a backdrop. For armchair tourists, here's a virtual tour of the Parliament House to get started.
Feed Your Mind At The National Museum Of Australia
This is the perfect spot to learn about Australia's culture, history and geography and you won't even have to pay anything to do so. Aside from that, you get to see a wide range of fascinating exhibitions. You can also take 3D virtual tours of their galleries.
Experience The Canberra Glass Works
You get to see Australia's cultural centre dedicated to the art of glass making. The tour is free which you will surely enjoy not only the beauty of the glass art but you get an in-depth learning session about the work, the artists, and the inspiration behind it. This studio and gallery will make you want to try glassmaking because it is that fascinating.
Canberra Deep Space Network
According to their site, at Canberra Deep Space Network "You can take in magnificent views of the largest antenna complex in the southern hemisphere, see a piece of the Moon that's over 3.8 billion years old, check out the latest images from across the Solar System and beyond, check out spacecraft models, plus flown space hardware and memorabilia. Discover the foods that astronauts eat on the space shuttle and space station, watch a movie on the history and future of space exploration, take a hands-on trip around the Solar System or across the galaxy, or just sit back and relax in the Moon Rock Café."
Sit Back And Chill In One Of Canberra's Picturesque Parks
You can visit Mount Ainslie or Lake Burley Griffin or The National Arboretum, no matter which one you choose you'd enjoy their natural beauty all the same. Pack some food and head to any of Canberra's parks and you have yourself a relaxing experience that didn't cost a thing. Doing this is especially great after going around to different places here. Because you still get to enjoy Canberra while taking a bit of a break.
Whet Your Palette At Capital Wines
Time for some food and wine-related fun! Drop by Capital Wines Cellar Door and get a complete wine tasting experience, share a cheese plate or try an epicurean tasting of matched wine and food. This is a boutique in Canberra District owned by the Mason and Andrews families and is open from Thursday-Monday 11:00-4pm. Don't miss out on this free booze experience because why not!
Old Bus Depot Market
There's something endearing about visiting the local farmers' market. But more than that, you also get to buy fresh produce, artisan goods, and handmade crafts that really give you some authentic atmosphere of the place and some quirky souvenirs to take home. Sure you may find yourself spending money here when you find yourself shopping for those souvenirs. But visiting this market is an entirely free and fun experience nonetheless.
While all of these are amazing places to visit and explore, not to mention barely costs anything to do so, there's still the cost of travelling all the way there and cost accommodations. Of course, that's given, however, if you still can't travel don't feel like you can't see Canberra at all. Thankfully, 3D virtual tours are now a thing and a lot of popular sites in Canberra already offer them. Get yourself pumped for your future travels by taking these virtual tours first while familiarizing yourself with the places at the same time.