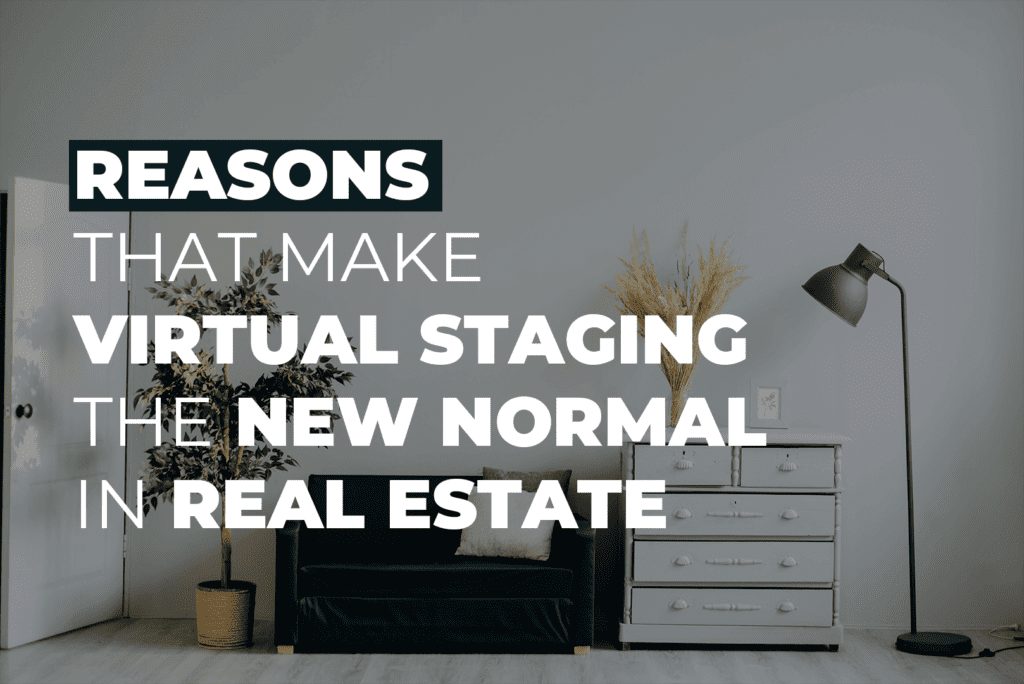 People now live online more than they realize and this ease of accessibility when it comes to technology has proven to be so convenient, especially during this current situation. One of the areas where technology has helped make things easier is in real estate. You can get enough details and information about a property online and be comfortable in moving forward and making an offer.
So, whether you're new or a veteran in this field, be prepared to go even more digital in the future. Even today, people expect to get enough data on every listing they check out, tour the home virtually, be able to ask all question and get answers, find out any deficiencies, and be able to decide if you feel comfortable enough to commit to a property—even if it's just an offer conditional on viewing. Real estate professionals and consumers consider this as an added value that should be available to everyone.
Moreover, another thing that's becoming normal is virtual staging. Virtual staging can digitally decorate and arrange a house with furniture and accessories. This then can be used for photos as well as 3D virtual tours to market the property. This helps home buyers see what their life could look like in the house they're looking at. And when home buyers get that emotional connection from a house that's when they tend to close the deal.
In fact, NAR's 2019 Home Staging Profile have found that 83% of buyers' agents noted that staging made it easier for buyers to visualize the property as a future home.25% of buyer's agents said that staging a home increased the offer between 1% and 5% compared to unstaged listings. 17% of sellers' agents said that staging increased the dollar value of a home between 6% and 10%.
Staged Photos No Longer Look Fake
Gone are the days when virtually staged pictures looked so fake. The industry is so competitive now that the goal is to deliver the same effect as traditional home staging only with less work and money. And honestly, they're so well done now that you can hardly tell the difference between traditional and virtually staged photos.
If the finished product doesn't look anything close to the real thing then there's no point. If a virtually staged space doesn't look real, they will take one look and immediately lose interest which means a failed attempt to lure a potential buyer to spend any more time with what else the listing has to offer. It's not just about choosing the best furniture that matches the space, it has to look realistic as well. Online shoppers looking at a listing will no longer have to make do with photos of vacant houses and try to figure out where each particular pieces of furniture will go and fit.
It's Faster, Cheaper, And Easier
Compare to traditional home staging where you may be looking at a week or two for the staging to be completed after the pre-staging, it will only take 24 to 48 hours of virtual staging. Photographers only need a day to take images of all the vacant rooms and then another day to virtually stage the entire house. Aside from that, the cost would be minimal since the entire said process will take place on a computer. That cost is usually a one-time fee per room/image.
Even existing photos in real estate listings that are fully furnished can make use of virtual staging. How? Well let's say the way the interior was decorated isn't working for the image or idea that the agent and seller are going for, then those photos can be sent to an editor and tweaked according to their preferences. In fact, entire rooms can be emptied out and recreated from scratch. Let's say a property have been sitting on the market for a while and the interior design on the pictures have become a bit dated, virtual staging experts can rework that into an entirely new look.
Conventional Staging  Is Not Going Away
What's good about technology is that it makes life and work more convenient. In this case, the rise of virtual staging doesn't mean it's completely replacing the traditional way of doing it. It's still important and more likely still be used by many people in this industry. But virtual staging can be a good back up plan as well as used as a great support tool in real estate marketing.