Before the year 2019 ended, China reported that there is a cluster of cases of pneumonia in Wuhan, Hubei Province which was later identified as a novel coronavirus. By March 11, 2020, the virus has spread like wildfire beyond the borders of China and the World Health Organization categorized COVID-19 as a global pandemic. From there, it seemed like the world entered a bleak period as country after country imposed restriction of all non-essential internal movement or total lockdown. Inadvertently, the internet offered a huge comfort especially to travellers who had no choice but to halt all their travel plans indefinitely. 
Coinciding with the lockdowns, Google Search reported a spike in searches for the word "virtual" as people turn online to continue to celebrate and experience the world virtually. This "new normal" era transformed the way we communicate, study, shop, 'travel', and more proving that we can thrive amidst difficult and uncertain times. 
Virtual Tours On Demand
Even before, eCommerce is big but the pandemic has definitely changed people's shopping behaviour and online businesses step up a notch. The heightened fear of contracting the virus made online shopping more appealing while others find it therapeutic to keep them sane in isolation. On the other hand, the travel restriction may make you think that the real estate industry is struggling but houses are selling at a faster rate now. Given that the economy seems to be fragile at the moment and many are out of jobs, it is only expected that the decision to buy any property will be halted. But some see the opportunity to invest in real estate with the hopes that the economy will soon recover. 

source: tradingeconomics.com
Australia's real estate industry continues to rise with locals, tourists, and foreigners seeking to settle in the marvellous and exotic locations of Australia, especially along the coast. In retrospect, data from Housing Industry Association noted an upscale of home sales by mid of the year 2020 after it recovered from its fall around the months when most lockdowns were implemented (See graph). The upturn of home sales can also be associated with improved marketing using the technology of virtual tours. The pandemic accelerated the use of virtual tours, 3D modelling, virtual staging, and drone surveys for properties. Even with travel restrictions, prospective home buyers were able to explore properties everywhere through their mobile phones and other devices. 3D virtual tours and 3D models made it possible for buyers to inspect the property in every angle and access it at their convenience while virtual staging allowed them to see the maximum potential of the home they plan to purchase. Indeed, technology caught up to where we live and assisted many in adapting to the "new normal".
A Little History: A Virtual Tour by Royal Appointment
The world's first-ever use of "virtual tour" experience was in a museum or archeological application in 1994. It was a historic museum visitor interpretive tour viewing on Dudley Castle in England as it was in 1550 through 3D reconstruction using a computer-controlled laserdisc based system. Her Majesty, Queen Elizabeth II opened the virtual "walk-through" to the public in June 1994 making her one of the first people to experience the virtual world.
While 3D virtual tours are widely used in museums as a "time machine" to allow its visitors to take a peek at the past, the computer gaming industry maximized the technology's potential to the fullest making it even more interactive and immersive. Other industries such as education, medicine, architecture, engineering, archaeology, and more have also taken the advantage of virtual tours.
Matterport 3D virtual tours further revolutionized virtual tours to a whole new level offering a more interactive and immersive 3D experience. With easy to navigate features allowing its users to gain a real-world perspective of a location, space, and/or product virtually accessible through mobile, tablet, desktop, and laptop. Matterport 3D virtual tour also includes high-resolution photos, videos, and panoramic images ready to use for your print ads and online marketing purposes–it's like your all-in-one marketing package!
360 Walkthrough
For the comprehensive digital 3D tour, select the 360 Walkthrough which has three options: self-guided walkthrough, auto-play mode, and highlight-reel navigation. Self-guided walk-throughs allow the user to examine and navigate the whole property as if they are walking in it just by clicking. With auto-play mode, the user will be given a montage of high-precision photographs in a walking/flying-through fashion of various rooms and spaces of the property. Highlight reel navigation is image-based navigation that offers easy access to the different portions of the property. It is found at the bottom of the tour and is labelled to guide the user to each section.
Dollhouse View
With this unique feature, rotate the whole 3D model of the whole property and view how every room is laid out. It is like a floor plan but interactive!
Mattertags
Aside from being interactive, Matterport virtual tours can be really insightful with Mattertags. Use Mattertags to annotate, add more information, showcase photos, and videos, and add links within the tour.
Measurement Mode
With a few clicks, get accurate point-to-point measurements of rooms, windows, doors, or furniture. A highly invaluable tool that aids in smarter space planning and utilization.
Floor Plan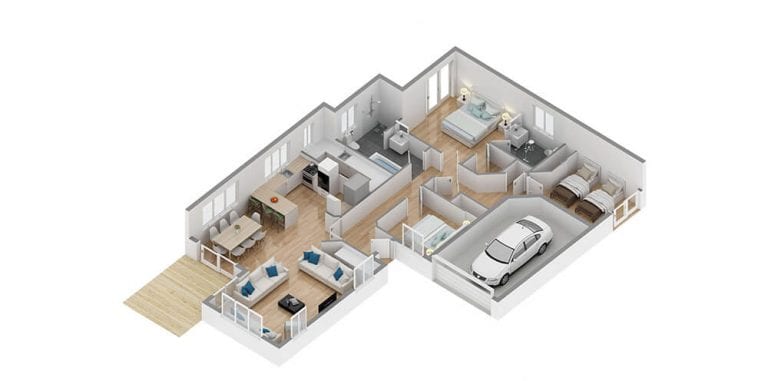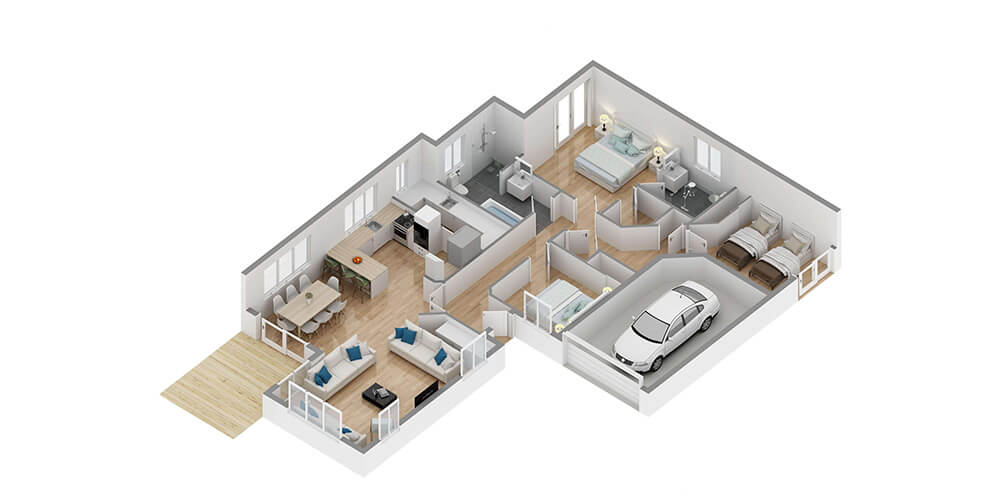 The floor plan conveys the architectural plan and is a scaled diagram of the property. It presents the property in a comprehensive top-down view and communicates the dimension of each section of the property essential in design furniture layout, wiring system, or establishing safety exits. The measurement mode is especially helpful to get the accurate dimension of the property.
Initially aiming only to create advanced cameras, Matterport has since diversified and amplified its vision into a wider platform to capture, create, search and utilize 3D imagery of interior and enclosed spaces in immersive real estate, design, insurance, and other B2C and B2B applications. Now, it is leading in providing 3D virtual tours technology. With its high-end 3D technology, Matterport is compatible with an array of 3D cameras, 360 cameras and even works with iPhone meeting all your virtual tour creation requirements—convenience, size, scale, and complexity.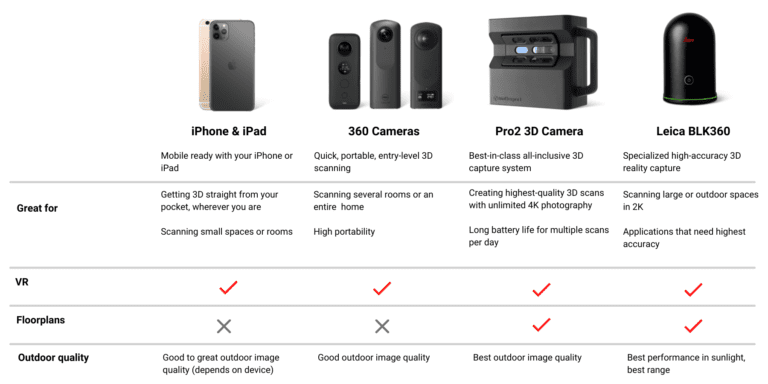 Matterport for iPhone & iPad 
The easiest and most cost-effective to create 3D virtual tours that are easily shareable with others. 
Conveniently capture 3D using your iPhone. 

Perfect for small spaces and simple scans. 

Easy sharing through social platforms. 

34-megapixel image resolution. 
Best results with Ultra-Wide camera: 
iPhone 11

iPhone 11 Pro

iPhone 11 Pro Max 
Also compatible in: iPhone 6S, iPhone 6S Plus, iPhone 7, iPhone 7 Plus, iPhone 8, iPhone 8 Plus, iPhone SE (2nd gen), iPhone X, iPhone XR, iPhone XS, iPhone XS Max, iPad Air 2, iPad Air 3, iPad Air 4, iPad mini 5, iPad 7, iPad 8, iPad Pro 
360 Cameras 
Perfect for anyone who has just got acquainted with virtual reality. It has a fast and convenient feature of transforming 2D images to 3D. 
High portability with a slim design and supports fast processing. 

Efficiently capture smaller spaces like small homes, condos, and apartments. 

Produce 360° photo resolution at 14–23 megapixels. 

Automatically transforms 2D images into 3D. 
Matterport Pro2 3D Camera 
It's an all-in-one 3D capture solution providing the highest quality and precision. 
Professional photo resolution of 134 megapixels and 3D accuracy. 

Perfect for scanning any size space from simple residential to large and complex commercial spaces. 

Generates highly accurate schematic floor plans. 

High-quality 3D capture with unlimited 4K print quality photography. 

Uncomplicated 3D capture and only requires minimal training. 

Produces schematic floor plans. 

Powerful Lithium-ion battery that can last up to 8 hours. 

Can transfer data over WIFI from the camera to an iOS device or Android device with the Capture app. 
Leica BLK360
Designed for professionals working in architecture, engineering, and other related industries. 
Guarantees high precision and accuracy for large indoor spaces and outdoor locations. 

Highest level of 3D accuracy (150-megapixel full-dome capture). 

34 megapixels photo resolution, 3-camera system. 

Produces schematic floor plans. 

LIDAR based camera. 
Some Of The Industries That Greatly Benefited From Matterport
Over the years, various industries adopted some forms of virtual reality in their operations and/or business models to enhance customer experience, maximize engagement, and improve services and research. Touted as the "next big thing", the technology just got better and better and even more realistic. Matterport technology has revolutionized the traditional virtual tour to a whole new level offering a more interactive and immersive 3D experience with easy-to-navigate features allowing its users to gain a real-world perspective of a space where they are not present. The virtual world has transformed our experiences, communication, shopping behaviour, and how we conduct business. 
Here are some of the industries benefited from the using Matteport:
Travel And Hospitality

Restaurants

Retail Stores

Architecture

, Engineering, And Construction

Event Venues

Cultural Spaces

News And Entertainment
How SmartView Media Can Help Your Business?
Using only the latest and best 3D capture and 3D modelling technology, SmartView Media became the leading Matterport 3D virtual tour provider in Australia. For years, we have consistently offered expert quality and highly interactive 3D Virtual Tours and stunning Virtual Staging solutions to effectively showcase businesses' physical locations and products online. We don't only cater to real estate for commercial and residential properties but to a wide range of industries including development and renovations, accommodations, co-working spaces, even educational institutions, and more. 
SmartView Media: Services Offered
If you remain sceptical about why a 3D virtual tour is better than an actual house tour, then maybe a guaranteed 46% increase in sales will convince you. Consequently, a survey done by Planet Home Study in 2007 found that 75% of prospective buyers highly preferred seeing a virtual tour of the property, which positively assisted in their purchase decision. Utilizing this virtual reality approach increases your authority with your customers and puts your business on the leading edge in a highly competitive market. As Australia's leading Matterport 3D virtual tour provider, SmartView Media specializes in creating expert quality, highly interactive, and fully engaging 3D experience for your customers which enables them to "walk through" or explore your location or product as if in person while gaining a comprehensive knowledge through the interactive 3D floor plan and multimedia tags features. 
Every realtor knows how important home staging is; in fact, the Mortgage Report confirmed that homebuyers gravitate towards staged homes as it sells 73% faster than non-staged properties. A dull, empty space doesn't really evoke excitement nor allow your customers to instantly foresee the maximum potential of the property. However, traditional home staging can be really expensive, time-consuming, and laborious. Given the fact that 90% of homebuyers begin their search online, virtual staging is rather the best choice than traditional home staging as it offers the same benefit for a fraction of a cost and can even help you save 97% off staging cost. One of the concerns is, probably, that virtually staged photos will look rather odd, disproportionate, or unrealistic. SmartView Media's expertise and creativity in virtual staging centre on realism–using that approach, we built our portfolio with decor and furnishing options that will grab buyers' attention online.
Do you want to escalate your business and leave a lasting impression on your customers through interactive 3D content? SmartView Media would like to take you into the realm of Matterport 3D Virtual Tours and immersive experiences!