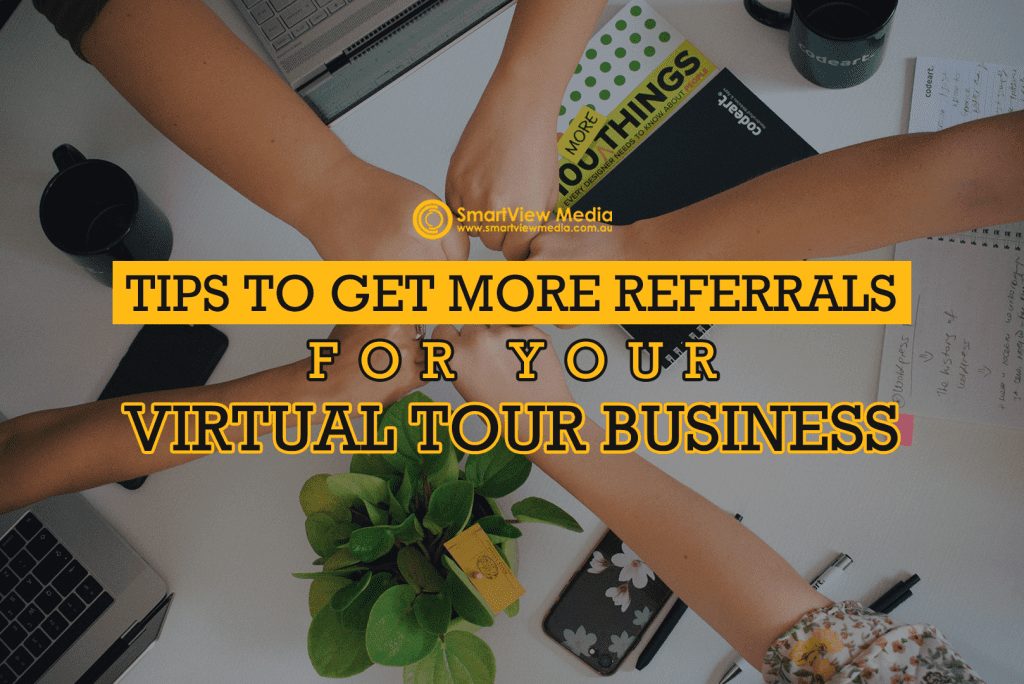 What's greater than getting a yes from a client? Well, being referred by them and generating more leads is definitely one!
Getting a client to say Yes to a deal can be challenging and sweet at the same time. But gaining more clients through them can keep a business going for a long time. Not only because they usually successfully turn into loyal customers, but also because they also generate even more leads in the future.
This is why companies still practice this method to boosts their business. So for your virtual tour business, you should definitely implement ways to continuously get more referrals. If you find that you're quite low on that, here are some tips that can be applied right away and benefit from in the years ahead.
Come Up With A Reward Program
The easiest way to encourage anyone to do something for you, like refer you to their friends or family, is to give them something in return for the favour. Incentives like a gift card, a percentage off of future work or even current work, or a small gift are likely to be appreciated.
Who doesn't like free stuff, right? 60% of companies with a referral process experience faster close rates. So every time you're working with a client always inform them of this system you have in place. Even better if you make it a per referral gift, meaning the more they refer the more they'll get. This will get them thinking about who else they can refer to you.
Ask Feedback From Your Customers
It would be good too if you do research on how your virtual tours were received by those who have previously taken it. What you get from that can be used to attract new customers. Your virtual tours can be the best of the best, but positive feedback and good-word-of-mouth are still the best way to market your services. So you need to know what the people are saying, learn from that, and implement them in your marketing strategies.
But even if customers like your work, there's no guarantee that they would recommend you to their friends and family much less to their professional acquaintances. Let's say a real estate agent has been working with you for a while, but aren't particularly blown away by your service. Then he probably won't bother promoting you to engineers or construction companies that he may be connected with.
That is why it's important that you regularly ask for reviews so you can see areas where you can improve on and make sure your clients are always amazed by your work. That's when people are naturally excited to start telling people about you. People love to boast about the great things they have, right?
Ask A New Customer
Plenty of businesses out there get their new customers mostly from referrals. Why? Because just got to know you recently and are already willing to work with you. That positive view right there can easily be transferred to another person or professional since it's at its height. And what's another good thing about it is that new customers come with a fresh set of networks as well that you can potentially be a part of.
Just make sure you're not being pushy about it. Since they're new, they can easily get scared off too. So before you ask for referrals from them, check in with them first and ask how the virtual tour is being received by their clients. If they sounded happy and grateful for your work, then that's the time you ask them to introduce you to their contacts. Sometimes you really need to ask in order to receive.
Make Them Believe In Your Value
To earn referrals, existing customers need to be fully convinced about the quality of your work and have had their own positive experience. Invest in understanding what it takes to create an exceptional customer experience along with each interaction point your customer has with your organization. As well as the best tool for them to be highly satisfied with your 3D virtual tours.
This is the advantage of utilizing Matterport. Matterport technology has transformed the traditional virtual tour to a whole new level. Its users can enjoy a more interactive and immersive 3D experience with easy-to-navigate features that allows them to gain a real-world perspective of a space where they are not present. Matterport is compatible with an array of 3D cameras, 360 cameras and even works with iPhone meeting all your virtual tour creation requirements—convenience, size, scale, and complexity.
Make It Easy For Them To Refer
Imagine if you're asked to refer a business to your contacts but you'd have to go through heaps of trouble before you can successfully do it. Would you? Probably not. So give the same considerations to your clients and make it simple and easy for them to start recommending you to people.
If possible, an email script where they just need to add their name or a mobile-friendly form where they can share links should be able to do it. If it's that easy, you'll soon have an army of loyal clients promoting your business for you.